New Player Guide
If You've Played With Another Group
Some folks have participated in other interactive theater or LARP groups. Every group is different; here are some ways where Quest events differ from some other groups.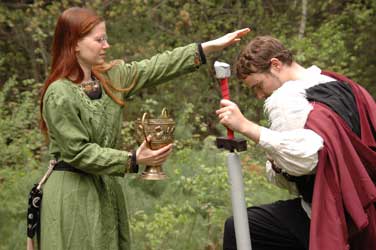 Players are generally heroic. In general, players are heroic, and have a willingness to work together to stop evil, rescue those who need help, and fix things that go wrong. This doesn't mean that everyone's an altruist; many of the players are reluctant heroes or heroes-for-pay. And it doesn't mean that everyone's playing a sunny character or a pure-hearted Sir Galahad; many may be gruff or have unpleasant personalities. But overall, we're less "dark" than some other groups. We let the players be the heroes, and have the staff provide the villains.
Plots are generally players vs. staff. Most of our events don't involve competition among players. Instead, the staff poses plot obstacles, and the players cooperate to overcome those obstacles. Even at games where there is competition, it is usually of the "who can get there first" or "who can find the most ____" variety, and not one where the players fight each other. We don't have a lot of player-on-player friction.
Combat is acted out.. Our combat is live, using foam weapons that are swung at their targets. It adds an exciting element of action! Some groups, such as "Vampire" groups, do combat with an abstracted system instead.
We don't have "hit points". In our system, you don't have to do a lot of counting or math. For us, a good hit to the arm disables that arm. A hit to the torso, or three limb hits, makes you pass out and begin bleeding critically. Once you start critical bleeding, if you're not healed in two minutes, you die. That right there is our whole wounds system – easy to learn!
Combat spells stop action, and most don't involve a thrown object. Some magic systems involve always throwing a small beanbag at the target, and speaking a short saying at the target. We don't want to have your skill with magic depend on your aim, and we don't want to make players have to memorize what each spell does. So our combat spells stop action; you blow a whistle, everyone freezes, you read the spell incant, and then action resumes. Non-combat spells (like healing) are done in real-time. Yes, this system sometimes mean things are a little "red light / green light", but it allows a richer variety of spells that never miss.
Characters are built from skills, not classes. Many systems have character archetypes like "fighter", "mage", "thief", and so on. Our system lets you build your character based on individual skills, so that you can make up your own new "class" if you want.
Armor is not that common. Quest's combat system supports armor, but for whatever reason, people don't wear it often. This means that players are more likely to rely on magical protection to prevent wounds, and on magical healing to patch them up afterwards. (This should not stop you from wearing armor, though — you'll find it very handy, and you won't need to be healed as often!)
Our "Continuing Game" world is not high-fantasy, and is often historical. Our plots are generally not high-fantasy epics where the fate of the whole world depends on player actions. However, at many games, the fate of a kingdom or a barony might depend on them! Characters do not generally skip between worlds, remaining on the earthly plane. Cultures in the Quest world resemble real-world ones, instead of being the vaguely British/Celtic "fantasy" one found in many game worlds. (We have British and Celtic kingdoms within our world. There are just other cultures too.)
Not all events take place at the same fictional locale. We have a rich game world with many cultures and lands, so our events don't all take place in the same fictional setting. Instead, we re-use the buildings and properties where our events take place, re-decorating and re-assigning, so that one game might use the campground as a rustic frontier village in the northern wilds, while another might use the same campground as the forest manor home of a wealthy noble in the southern lands. So fictionally, the player characters end up journeying from place to place. (That said, some of our games do take place in recurring locales.)
Weapon hits need to be not too light, but also not too hard. A light brush from a weapon doesn't count as a hit; it has to decently connect with the target. By equal measure, we don't let you swing your weapon too hard, because that's not safe – and no fun for the target.
Our prop weapons are extra safe. Most of ours use a thick layer of soft, closed-cell foam over firm but lightweight plexiglass. Many groups use hard, open-cell foam (like PVC insulation) and PVC pipes, or latex-covered weapons that can have hard striking surfaces. We usually don't allow those types of prop weapons because they're not safe enough for us; we want to make extra sure that no one gets hurt.
We try to keep a safe environment all around. You're welcome to drink all the simulated booze you want, but for safety reasons we don't let people drink real alcohol at events. And we don't want to make people uncomfortable with some subjects; after all, this is a fun activity to escape the real world. So we ask that you don't mention sexual abuse or rape at events.
If You've Played D&D
Some folks have also played D&D, a common fantasy roleplaying game. Quest has some things in common with D&D, but also some differences. See above for a few major differences: our characters are generally heroic, our game world isn't "high fantasy", etc.
Our character creation system doesn't use "classes". Some D&D classes translate easily enough to Quest, such as clerics, fighters and rogues. But in Quest, a "barbarian" just means a person from the wilds, and need not be a big, tough warrior; barbarians don't get the magical power to summon a horde simply by virtue of being barbaric. Similarly, the king's rangers are his foresters; they may or may not have magical abilities. Knights in religious orders (that is, "paladins") may have some Clerical magic, and may not. Bards are singers and storytellers; they don't necessarily have any magical ability to charm or impress people. Lastly, our world has no particular concept of "druids" or martial-artist monks.