Advanced Magic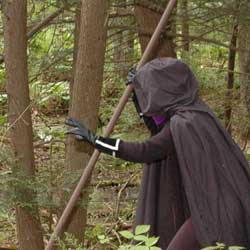 These concepts are for players who wish to explore some more advanced options for the Magic skill. (We recommend you first have a decent understanding of Quest's magic system before you try these.)
Cleric and Mage "kits"
These kits are not available at One-Shot games.
"Kits" are optional bundles of rules that someone with Mage or Cleric Magic may choose in order to give their character some powers that are particularly appropriate to the clergy of their deity, or to their magical specialization:
Characters with Cleric Magic may choose to take the cleric kit associated with their patron deity. The description of each god (in the pantheon section) includes the details of that god's kit.
Characters with Mage Magic may choose to specialize in the magic of one of the five Elements, or to specialize in Void (the absence of any element). There are six specializations: the three opposing pairs of Fire/Water, Earth/Air, and Aether/Void. They are detailed below.
By choosing a kit, the spellcaster gains the bonuses listed, but must accept the limitations:
The kits may require that you purchase skills or take disadvantages. While you do receive the points for any disadvantages you take as part of a kit, they do not count towards your character's disadvantage total.
If a kit lists a spell as "allowed," that means that a spellcaster with the kit gains access to that spell as if it were a spell of their type the same level. Clerics casting Mage combat spells that are "allowed" share the clerical exception to the "hands-free" rule, and the cleric may use countermagic on them normally. Mages casting "allowed" cleric combat spells are still subject to the "hands-free" rule, and they may use countermagic (including the mage-specific Reflect and Redirect countermagic) on them normally.
If a kit changes a spell's cost, its level stays the same. That is, you still require the same level of Magic in order to be able to cast it; it just costs fewer spell points when you do so. Changing a spell's cost also changes the costs of metamagic on that spell.
If a Combat spell normally available is prohibited, this also means that the spellcaster may not use countermagic on that spell (as it is no longer in their spell book).
If the kit says you get a spell "free," then you may cast that spell the specified number of times per day without having to spend any spell points. However, you must be a caster of at least the same level as the free spell in order to use this bonus.
If you choose to take a kit, you should note it on your character sheet.
Cleric "kits"
Cleric kits are listed in the entries for the gods; the details of each god's kit are listed under the entry for that god.
You can't "shed" a Cleric kit without good reason (such as renouncing one's god, which is apt to get you in a whole other mess of trouble anyway).
Mage "kits" (specializations)
Pyromancer (Fire mage)
1 free Ignite Fire per day
Cleric spells Stop Bleeding (cauterizing flame. It's painful.) and Strengthen Will allowed.
Heat Item and Heat Metal cost 2 spell points less
No Slip or Poison spells.
Fire is impulsive and greedy: Must take either Overconfidence or Stubbornness.
Hydromancer (Water mage)
1 free Slip per day
Cleric spells Cure Poison and Revive allowed; Poison costs 2 points less.
No Heat Item or Heat Metal spells.
Water is purifying follows the easiest path: Must take either Honesty (or Complete Honesty) or Cowardice.
Geomancer (Earth mage)
Rootfoot and Stoneskin cost 2 points less. Cleric spell Magic Wall allowed.
No Wraith Form or Blink spells.
Earth respects order: Must take one of Peaceful, Pacifist, Law-Abiding, or Law-Enforcing
Aeromancer (Air)
Blink costs 1 point less. Wraith Form costs 2 points less.
No Barkskin or Stoneskin spells.
Air is curious and impetuous: Must take either Gullible or Foolhardy
Æthermancer (Æther mage)
Mana Gift costs 1 point less (it's free aside from the gifted points). Reflect and Redirect countermagic costs 2 spell points less.
May not cast any spells on an unwilling target (note that they may still freely apply metamagic to spells)
Aether is intellectual and insubstantial: Must take Weakness and at least one level of Lore (or Sage)
Nihilimancer (Void mage)
Cleric spell Mana Vortex allowed.
Dispel Magic costs 1 point less.
Nullify metamagic costs 1 point less (to a minimum of 1).
No Mana Gift spells.
No beneficial spells may be cast on anyone but yourself (Barkskin, Stoneskin, Spell Immunity, Trap Resistence, etc)
Void is nasty and oily: Must take either Uncivilized Behavior or Sycophant.
Magic, Mystic (3 points per level)
Prerequisite: Mystic Initiation
A mystic is a different form of spell caster from a mage or cleric. You are guided by an internal, intuitive process rather than through rituals and memorization. You invoke your powers through unusual methods or even your own power.
Unlike mages or clerics, mystics do not have a large list of spells they can cast at each level. Instead, you have a fixed spell list, which you must choose. With each level, you add more spells to your spell book. Moreover, mystic spells are divided into paths to reflect your particular training and background; as such, you should have a thought-out character history for the mystic.
You may place three spells into your spell book per level of Mystic Magic. However, you may take a spell on a path only if you already have all the lower-level spells on that path. That is, you may not take the third-level spell on a particular path unless you already have the first-level and second-level spells of that path in your book.
You must have at least one path in which you have taken a number of spells equal to or greater than your level of Mystic Magic.
Notes about Mystic Magic
You must manufacture your own personal spell book, since the standard spell books are inadequate for a mystic's spell lists.
You may take spells that are one level higher than your level of Mystic Magic. However, these spells are only available through up-casting.
The spell point cost for casting a mystic spell is equal to the level of the spell on the mystic paths, not the level on the mage or cleric lists.
Your spells retain all of the characteristics that they normally have when cast through Mage or Cleric Magic, except their level. (They retain their original name, effect, range, etc.)
You can fortify or nullify any spell in your spell book according to the rules for meta-magic.
PC mystics may not have

Safe Retreat

spells or healing spells of seventh level or higher.
Customizing Mystic Paths
If one of the spell paths does not include a spell that is appropriate to your character concept, you may substitute it for one currently on the path lists. The spell must be placed in an appropriate list and cannot duplicate a spell in another list. The level of the spell on that path must be at least one level higher than the mage or cleric version of that spell. (So if you wish to add a fifth-level cleric spell, it must be placed at level six or above on a mystic path.) If no path seems appropriate for the spell, you must place it in the Path of the Mystic.