Making Your Own Quest Equipment
Weapons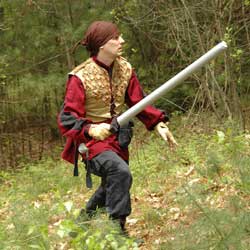 Safety Inspections
Only weapons of approved design which have passed a safety inspection by the Weapons Manager or one of his designated marshals may be used in Quest-related activities.
Most non-Quest weapons (i.e. NERO-style) will not pass inspection automatically. If you wish to bring in a weapon of your own design, you must bring in an example copy to be torn apart by weapons marshals, so that they may verify safety.
Maintenance
Every fighter is responsible for the safety of his/her own weapons and equipment. Each fighter is also responsible for bringing unsafe equipment to the attention of a Weapons marshal. Unsafe or worn equipment is never "somebody else's problem."
Spell Books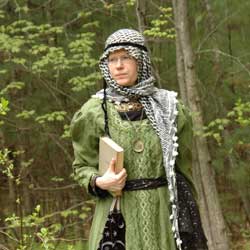 Quest players are welcome to make their own spell books rather than use Quest's.
Spell books come in four standard sizes: 8 x 10 inches, 5 x 8, 5 x 4, and 4 x 2.5. The maximum number of spells per page allowed for each size is 4, 3, 2, and 1 respectively. You may always choose to place fewer than this number per page.
A spell book must have a front and back cover without any spell pages on them.
Each spell entry must be legible and must contain the spell name, the spell, the complete glossary entry, and the special notes about the spell (e.g. cast with a bell or whistle, the spell's range, etc.)
All spell books must have a spell point counter or tally that is attached to the book.
All spell books must have a spine, defined as one edge in which the pages do not open.
A spell book cannot be permanently attached to any in-game item such as a shield or a staff, but the book may be tied to such an item.
All spell books must be inspected by a rules marshal before being used at a game for the first time. In addition, all spell books must have their pages inspected by a rules marshal before their first use after rules changes have gone into effect each year, and before their first use after any time their pages are updated (such as to add more spells).
Anyone who presents their spell book to a rules marshal at the time that new players arrive for check-in is entitled to have unchecked books that were presented on time to be used without being checked to ensure a prompt game start.